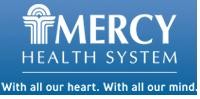 The National Association of Female Executives NAFE recently named Mercy Health System as one of its "NAFE Top 10 Nonprofit Companies for Executive Women" for 2016 in recognition of it being an organization that identifies and advances women through its ranks. The list recognizes organizations whose policies and practices encourage women's advancement and whose numbers at the highest levels of leadership demonstrate that commitment.
At the Top 10 Nonprofit Companies, women represent 62% of top earners and 39% of those holding executive positions. "For 10 consecutive years, we have found women succeeding at nonprofit organizations at a faster pace than at for-profit companies," says Dr. Betty Spence, NAFE President. "Forty percent of our Top Nonprofit Companies winners have women CEOs, compared to five percent of the Fortune 500. This is a clear indication of opportunities for advancement at nonprofits that young women should keep in mind when planning their careers."
"We are very honored to be listed among the top companies for executive women for the sixth year in a row," says Javon R. Bea, president and CEO of Mercy Health System. "We truly have an outstanding leadership team that is committed to creating a work environment that promotes career advancement and success." 
Sue Ripsch, system chief nursing officer and senior vice president, is celebrating 25 years as a Mercy employee, having served multiple roles in various capacities. She has overseen the drive toward nursing excellence that resulted in Magnet® recognition in October 2015. Sue says she feels Mercy understands the value women have in the workplace. "Like many other women in our organization, I have been provided the opportunity to grow in my career; advancing from a nurse director, to VP and now senior VP and CNO for the system," Ripsch said.
Ripsch is one of 22 serving in executive leadership, 12 of whom are women. "It is an honor for us to have received this recognition for so many years in a row," Ripsch continues. "I have been part of the Mercy family for 25 years and I am proud to be part of an executive team that is committed to continual growth and education that results in exceptional service and care for our communities."
NAFE's announcement is featured in the February/March 2016 issue of Working Mother and on nafe.com. For more information about Mercy Health System, visit MercyHealthSystem.org.