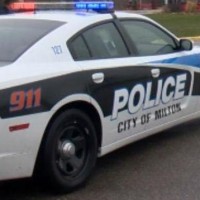 A 19-year-old is facing number of charges after Milton Police say he crashed his vehicle into a house early Thursday morning.
The accident on the 200 block of Front Street was reported just after bar close.
Milton Police say Devin M. Decker was traveling west on Vernal Avenue at a high rate of speed when he failed to negotiate a curve and crashed into the east side of the house on Front Street.
Two of Decker's adult passenger were injured and transported to a local hospital. Decker and a third passenger were uninjured.
While the home was occupied at the time of the crash, nobody was hurt.
Decker was taken into custody on suspicion of two counts of operating a motor vehicle while under the influence of an intoxicant causing injury, two counts of causing injury by operating with a prohibited alcohol concentration, transporting intoxicants in a motor vehicle by an underage person, and unreasonable and imprudent speed.