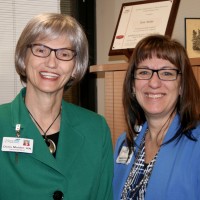 Beloit Health System announces a change in leadership.
Vice President and Chief Nursing Officer Doris Mulder will step down from her role on March first after working at Beloit health System for more than 30 years. She will stay on to help out with on-going projects until later this year.
Current Director of Oncology, Sharon Cox will replace Mulder as Vice President, Chief Nursing Officer. Cox joined Beloit Health System as a C-N-A in 1998. As the Director of oncology services she lead the development of the UW Health Beloit Cancer Center, a partnership that brings cutting-edge cancer services close to home.
Beloit Health System provides care for the residents of southern Wisconsin and northern Illinois.