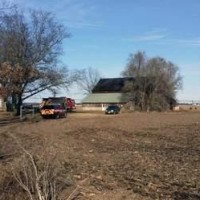 A barn just south of Janesville is damaged by fire.
The Janesville Fire Department responded to the property on the 1700 block of South Read Road in the town of La Prairie just after 2:30 Wednesday afternoon.
No one was injured, and no livestock were involved.
Read Road was closed for a time at the intersection with Delavan Drive.
Firefighters told a Gazette reporter on scene that it appears someone was burning brush, and wind blew sparks from the brush pile to the wooden shake shingles of the barn's roof.
Damage initially appears to be isolated to the roof.