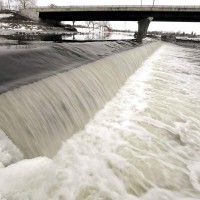 The City of Janesville will host a community engagement forum regarding the future of the Monterey Dam from on Wednesday, February 22 in the Council Chambers (Room 417) of City Hall (18 N. Jackson Street). The community engagement forum will begin with an open house at 5 p.m., with a presentation to begin at 5:30 p.m.
This community engagement forum is the next step in the process for the City Council's decision on whether to repair or remove the Monterey Dam based on requirements from the Wisconsin Department of Natural Resources (DNR) that the City take action with regards to the dam. A Citizen Advisory Committee including community stakeholders of the project has held meetings since December 2016 to study the repair and removal options and will make a recommendation to the City Council, tentatively scheduled for the Council's March 27 meeting.
During the community engagement forum, a discussion led by City staff with presentations from Ayres Associates (the company that provided consulting on the dam repair option) and Inter-Fluve (the company that provided consulting on the dam removal option) will begin at 5:30 p.m. Representatives from the DNR will also be present to answer questions. At the forum, citizens will have an opportunity to provide written input to City staff and Citizen Advisory Committee members in advance of the Committee's recommendation. All members of the community are welcome and encouraged to attend.
For those unable to attend, JATV Media Services will broadcast the forum live on Charter Channel 994.