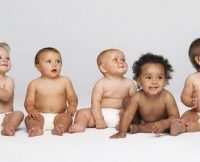 Expectant mothers and mothers with a child born between April and October are invited to attend the 15th annual Rock County Community Baby Shower, Tuesday, October 24, 5-8 pm, at the Moose Lodge, 2701 W. Rockport Rd., Janesville. This special free event is aimed to educate women on how to keep their babies safe and healthy during their first year of life.
The Rock County Community Baby Shower committee includes several community organizations: Rock County Health Department, Hedberg Public Library, Beloit Memorial Hospital, CESA 2-Birth to Three, SSM Health, Children's Hospital of WI-Exchange Family Resource Center, Mercyhealth, Nutrition and Health Associate, Rock/Walworth County Early Head Start, and Head Start.
Registration is not required. Speakers will begin their presentations at 6 pm. Participants will enjoy a night of fun, food and gifts. Resource booths will include several local service agencies and businesses. Daycare will not be provided. The first 125 moms will get a free gift bag. Moms, dads and children under 6 months only, Please; children over 6 months will not be accommodated.
For more information, please call (608) 436-0829 or (608) 371-8035.