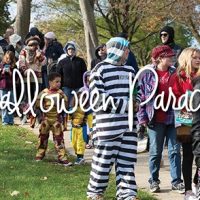 The Downtown Beloit Association (DBA) is once again hosting the annual Halloween Parade & Party in the heart of Downtown Beloit. This community tradition is in its 28th year and promises to once again provide families a safe and fun trick-or-treating experience followed by a variety of family-friendly activities!
Parents & guardians are invited to bring their kids (and themselves) in their favorite costumes for a parade and the opportunity to trick-or-treat at downtown businesses as well as Farmers' Market vendors. Parade participants should meet at Horace White Park (College & Grand Streets) at 9:45 a.m. There will be orange flags to indicate which business & farmers' market vendors are participating.
After the parade, kids can enjoy "The Mr. Steve Show" and balloon creations following the show beginning at 10:45 a.m., free pumpkins from Brad & Cindy Paulson (while supplies last), and spooky stories at Turtle Creek Bookstore 11 am-1 pm. In addition, there will be face painting with Bubbles Inc, photos by "Photography by April" for $5, and a "Fun Zone" with a bounce house, obstacle course, and more at the corner of State & Grand Streets!
"The Halloween Parade & Party always brings out a huge crowd," said Shauna El-Amin, Executive Director of the Downtown Beloit Association. "It's a wonderful family-friendly event that we are proud to say has become a staple in the community. It wouldn't be Halloween in Beloit without it!"