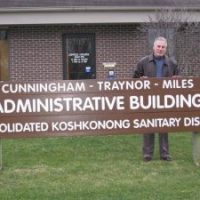 The public has until November 9 to submit comments on proposed improvements to Consolidated Koshkonong Sanitary District facilities, which are being reviewed by the Department of Natural Resources.
The existing treatment plant was originally constructed in 1972, and although the plant has upgraded periodically, many of the structures and piping systems have been in service for 30 to 50 years and need replacement or rehabilitation. Recent evaluation has indicated leaking from the treatment lagoons along with close proximity between the lagoon liner and water table. In addition, wastewater flows and pollutant loadings to the plant are increasing. Finally, the sanitary district will be required in the future to meet more stringent water-quality based effluent limits for ammonia and Total Maximum Daily Load limits for phosphorus.
The proposed improvements include upgrades at the main pumping station and treatment facility along with installation of a new force main between the two. Upgrades at the pumping station include replacement of aging pumps, improvement of flow monitoring, and replacement of the original comminutor with a mechanical bar screen.
At the treatment facility, the lagoons will be raised, expanded, relined and covered, and new aerators will be installed. In addition, the facility will construct a new building to house aeration equipment and electrical controls, replace its chlorine disinfection system with UV disinfection and add chemical feed and mix capacity to remove phosphorus. The sanitary district does not expect the proposed project to involve significant environmental impacts.
The capital cost of improvements is estimated at $6,762,247. The district anticipates financing the project using a Wisconsin Clean Water Fund loan and will also pursue grant funding. User charges for a typical residential user are expected to increase over the construction period from the current $31 per month to between $45 and $50 per month, depending on available funding.
The public may provide comments by Nov, 9, 2017 to Andrew Dutcher, Bureau of Water Quality, Department of Natural Resources, Box 7921, Madison, Wisconsin 53707, 608-267-7610.