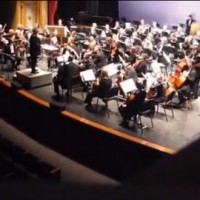 Ring in the yuletide season in style with The Beloit Janesville Symphony Orchestra Holiday Pops concert!!   A great tradition returns to JPAC and Eaton Chapel on the Beloit College Campus.   The symphony, under the direction of Dr. Rob Tomaro, welcomes David Bitter, local community actor, as he narrates everyone's favorite holiday story, 'Twas the Night Before Christmas.
The symphony will perform all your favorites, such as Sleigh Ride, White Christmas, Mannheim Steamroller's rendition of Stille Nacht, March of the Toys, and much more!
Santa Claus will be on hand to greet you and your little ones, a Silent Auction and Raffle items and pecans of all kinds will be available, as well as refreshments to add to the Holiday cheer!
WHERE & WHEN: In Beloit: Saturday, Dec. 16 at 7:30pm at Beloit College's Eaton Chapel; in Janesville, at the  Janesville Performing Arts Center, 408 S. Main St. Janesville, Sunday Dec. 17 at 2:00pm.
 TICKETS: Adults: $20; children w/adults FREE; all students $5. In Janesville, tickets are available through JPAC: www.janesvillepac.org, or by calling 608-758-0297. Tickets are available at the door. Reservations are recommended.
In Beloit, tickets are available on-line at www.beloitjanesvillesmphony.org, at Attic Quilts, 319 State St., Beloit, by calling 608-313-1200, and at the door.