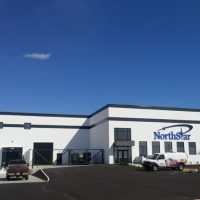 NorthStar Medical Radioisotopes in Beloit crosses the finish line in the race against Janesville's SHINE Medical Technologies to be the first North American producer of the medical radioisotope Molybdenum 99.
NorthStar announced Thursday that the U.S. Food and Drug Administration has approved it's system for producing the radioisotopes used in a variety of medical testing procedures.
NorthStar is producing Moly-99 with the aid of a government lab in Missouri. The product would be shipped from Beloit to specialty pharmacies around the country who would use NorthStar's RadioGenix System to refine the product for use in medical tests such as cancer screening.
Janesville-based SHINE Medical Technologies has broken ground on a facility on Highway 51 in Janesville where they plan to produce medical isotopes in-house using a different system.
The supply of Moly-99 has been subject to frequent and sometimes prolonged interruptions, disrupting and often delaying the diagnosis and treatment of patients in need of medically important diagnostic tests.