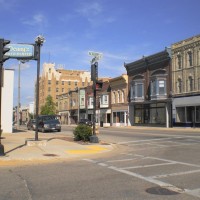 The City of Janesville will host the second community engagement forum to collect feedback from the public on the potential conversion of Milwaukee Street from Locust Street to Atwood Avenue from one-way to two-way traffic this summer. The community engagement forum will be held at 6 p.m. on Wednesday, March 2 in the Council Chambers (fourth floor) of City Hall at 18 N. Jackson Street.
Staff from the Department of Public Works will host the forum to present the proposed project to attendees, answer questions and collect input from the community. Feedback received will be presented to the City Council to guide their decision on whether to move forward with the project in 2016.
All members of the public are welcome and encouraged to attend the forum. Feedback about the project can also be shared by contacting Senior Engineer Matt McGrath at (608) 755-3165 or mcgrathm@ci.janesville.wi.us.  The City will also solicit input on its Facebook and Twitter pages.