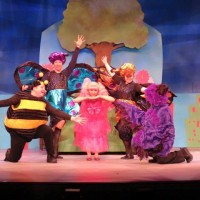 For the first time in its ten year history The Armory is presenting a musical intended specifically for the youngest of audience members. Pinkalicious The Musical is based on the popular children's book series Pinkalicious by Victoria Kann and Elizabeth Kann and tells the story of a little girl named Pinkalicious who eats so many pink cupcakes, despite her parents' warnings, that she turns pink! In this fun-filled one hour long musical, Pinkalicious and her family must figure out how to reverse the Pinkatitis and discover that only eating green healthy foods can cure this ailment.
Intended for children ages two to about nine (not just girls!), this musical is full of high energy song and dance the kids will love as well as some all-to-familiar parenting situations the adults in the audience will relate to. Featuring a professional cast led by Janesville native Amanda Rodriguez (Pinkalicious) and Armory veteran Brett J. Frazier (Mr. Pinkerton) Pinkalicious The Musical is sure to impress.
Shows run multiple times on each day: May 7th and 14th shows begin at 9am, 11am and 1pm while on May 15th there are shows at 11am and 1pm. There are two ticket options for this show. For $9 you get the show only, but for $19 you get upgraded to a buffet meal served 30 minutes prior to show time that includes such tempting treats as sausage and cheese pizza, macaroni and cheese, hot dogs, peanut butter and jelly uncrustables, chicken strips, fresh fruit and, of course, pink cupcakes! At the end of each performance, all children will have an opportunity to meet the cast and have their picture taken with them.
2016 has marked the return of professional theatre to The Armory in Downtown Janesville and the venue has been known for years as a beautiful venue for live performances and other events, but this is the first time a production meant for children has been produced. Producers say that the Theatre for Young Audiences Program will become a part of each season at The Armory moving forward with different offerings at least once per season, possibly more.
Tickets are on sale now at www.BrownPaperTickets.com or by calling 608.755.4123.
Theatre at The Armory is a non profit partnership of Bower City Theatre Company and Best Events Catering.