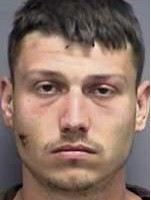 A 27-year-old Janesville man who plead guilty to smoking marijuana before causing the traffic accident that killed a Brodhead woman's unborn child will spend nearly two decades in prison.
Judge Michael Haakenson sentenced Russell to 18 years in prison and 10 years of extended supervision Thursday afternoon.
Russell is accused of causing a crash on Highway 11 in Orfordville in which a 29-year-old woman lost her unborn baby, and three children including Russell's twin two-year-olds were also hurt.
As part of a deal with the prosecution, Russell pleaded guilty to homicide of an unborn child by the intoxicated use of a motor vehicle, along with three counts of Operating While Intoxicated causing injury to a child in exchange for several other charges being dropped.