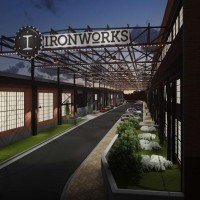 On February 22 and 23 of this year, the newly constructed Hendricks CareerTek, a state-of-the-art career center located at 625 Third Street, Suite 200 in the Ironworks campus, will host a number of Walking Tours, an Open House, and a ribbon cutting ceremony, free and open to the public.
The February grand opening events will be held in conjunction with the ongoing build for the new Stateline YMCA building, down the road from Hendricks CareerTek on Third Street and W. Grand Ave.
Dr. Tina Salzman, Business & Education Director for Hendricks CareerTek, will be leading the walking tours through the space, which will provide a variety of workshops and other educational services that directly complement skills in high demand by today's workforces, such as coding, healthcare, construction and trades, manufacturing, business listening sessions, soft skills boot camps, financial literacy workshops, keynote speakers, and other workforce-related initiatives.
Hendricks CareerTek seeks to partner with the School District of Beloit, the Boys & Girls Clubs, the Greater Beloit Chamber of Commerce, Irontek, and area businesses to provide community youth the opportunities to gain valuable insights into workforce demands, career pathways, and requisite skill sets. Salzman's position will be responsible for maintaining all programs and being a bridge between the students, the center's programs, and the business community.
As part of the Hendricks CareerTek walking tours, Doug Britt, Executive Director of the Stateline YMCA, will be leading walking tours through the developed space of the new YMCA building, an 80,000 square-foot building that was generously donated by Diane Hendricks, Chairperson of Hendricks Commercial Properties. The building donation has a value of $4 million dollars. Britt announced earlier this year the new YMCA facility is on track to be completed by April of 2017.
Corporate Contractors Inc. (CCI) is overseeing construction for the YMCA, and were also contracted for Hendricks CareerTek.
Hendricks CareerTek funding is generously provided by a grant from the Hendricks Family Foundation to the Stateline Boys & Girls Club, out of which the career center will directly operate.
Walking tours for Hendricks CareerTek and the new Stateline YMCA facility will take place at 7:30 a.m. on Wednesday, February 22, and 12 p.m. Thursday, February 23. The Open House for Hendricks CareerTek will be Thursday, February 23 from 1 p.m.-4 p.m., followed by the ribbon cutting ceremony at 4 p.m. All events are free and open to the public.