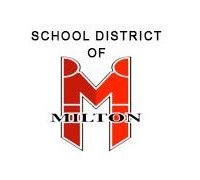 The Milton High School "Careers with Children" class has been studying young children, and is now ready for hands on experience. They will be conducting a preschool throughout the month of December in room 208 (downstairs). The preschool will be held on December 5th, 7th, 8th, 12th, 14th, 15th, 19th and 21st. Preschool will be held over two class periods of 7th (1:15-2:03) and 8th (2:07-2:55) hours.
They would like to invite children (ages 3-5) to attend our preschool on these dates. Each day will provide fun and excitement as well as refreshments and story time for your child. Please bring your child to the MHS room 208 at approximately 1:20 p.m. to avoid the crowded halls, and sign your child in. You will need to stop by the office to receive a visitor's pass before dropping your child off. The high school students will be waiting in room 208 at the end of the day, so please be prompt at picking up and signing out the child at approximately 2:50. If weather becomes a problem, and school is cancelled or dismissed early we will not be holding preschool on these days, but may need to
reschedule the date.
On the first day your child attends Preschool, an information sheet will need to be completed. The information sheet will include emergency and contact information. Please enroll your child by calling Brenda Barra at 868-9300 Ext. 1208 as soon as possible. Space is limited.
A one time fee of $5.00 for the session is also requested in the preschool to help offset the cost of materials and snacks provided.