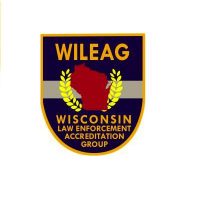 On October 2nd, 2017, Janesville Police Sergeant Brian Vaughn, Records Manager Tom Wolfram, and Deputy Chief John Olsen met with the Governing Board of the Wisconsin Law Enforcement Accreditation Group (WILEAG) regarding the On-Site Assessment of the Janesville Police Department which occurred in March of 2017.  At this meeting the Janesville Police Department was awarded Accreditation Status on the 5th Edition of the Wisconsin Law Enforcement Accreditation Group Standards.
The Janesville Police Department proved compliance with 206 standards in order to gain accredited status.
According to Chief David Moore, "The accreditation process affirms to the community that the police department is performing to a set of standards that are respected by the policing profession. In a rapidly changing environment, accreditation keeps policy and procedure current and assures that the police department constantly follows the written guidelines."
Mr. Robert Rosch, Executiv e Director of WILEAG, presented Chief Moore with a plaque at the November 27th Council Meeting commemorating the re-accreditation. The Janesville Police Department was first awarded this status in 2000. This is the fifth re-accreditation for the department. This status remains in effect for three years.