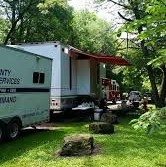 As a result of studies showing that overexertion and cardiac failure are the leading cause of firefighter fatalities, the Town of Beloit Firefighters Association decided they needed to take action. In
March of 2016, the Association purchased Rehab 28 via a loan in order to provide a safe haven for personnel and/or bystanders on an emergency scene. Rehab 28 is not just a resource for Town of Beloit, but has also since been utilized by area fire departments, EMS services, and police department from Rock County and the surrounding areas during adverse conditions.
Since the purchase date, several area fire departments, local donations and a golf outing sponsored by the Rock County Fire Officers Association have helped offset over half of the original purchase price and needed additions. SWEPT, (Southern Wisconsin Emergency Preparedness Team), has also donated refreshments and many hours assisting the departments during emergency situations.
In January of 2018, the Town of Beloit Fire Association decided to utilize past pancake proceeds, some general donations and unspent membership monthly dues to pay off the remaining loan. At the town board meeting on Monday, February 5th, 2018, members of the association donated Rehab 28 to the Town of Beloit to be used further as a resource to the Greater Beloit region.