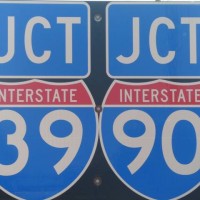 Crews will start work next week to reconstruct and expand approximately 12 miles of Interstate 39/90 from Hart Road near Beloit north to the I-39/90 and US 14 interchange (Exit 171B) in Janesville. Construction crews are currently working in the Janesville area on the northbound Interstate lanes and bridges over local roadways, as well as preparing for the upcoming traffic switch within these limits.
In mid-March, the northbound Interstate crossover will be relocated farther south to the Hart Road overpass, near Beloit. This will allow crews to complete reconstruction and expansion the northbound lanes within the project limits. Once this traffic switch is in effect, the County S/Shopiere Road ramp to I-39/90 northbound will be closed for two weeks as crews complete the temporary loop ramp connection to the southbound side. Motorists should follow the posted detour route during the short-term closure.
When the I-39/90 northbound expansion is complete, both northbound and southbound motorists will be shifted to the new northbound pavement and crews will reconstruct and expand the existing I-39/90 southbound lanes.
I-39/90 remains open to two lanes in each direction during peak travel times. Periodic single lane closures will occur on the Interstate weeknights from 8 p.m. to 5 a.m. within the construction project limits. All lane restrictions and work operations are weather dependent and subject to change. Motorists are reminded to be alert and drive with caution in all work zones.
In spring/summer 2018, noise barriers are scheduled to be installed along I-39/90 northbound, between the WIS 11 (Racine Street) and US 14 interchanges. In summer 2019, noise barriers are anticipated to be constructed along I-39/90 southbound between the US 14 (Humes Road) and WIS 11 (Racine Street) interchanges.
This section of the Interstate project is scheduled to be completed in spring 2020 (weather-permitting).
Residents can learn more about work taking place this year during an open house Monday, March 12th from 4:00 until 6:00 p.m. at the Holiday Inn Express in Janesville.