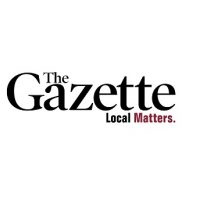 For a third consecutive year, The Gazette on Friday was named Newspaper of the Year by the Wisconsin Newspaper Association.
It is the top award among all daily newspapers in the state.
The Newspaper of the Year prize was based on 35 news awards and 30 advertising awards received by the newspaper and its staff.
Awards in the 2017 Better Newspaper Contest were presented during the association's 164th annual convention Friday at the Sheraton Madison Hotel.
"Up until three years ago, it seemed unrealistic for the Gazette to be named Wisconsin's best newspaper, considering the likes of the Wisconsin State Journal, Green Bay Press-Gazette and others. But then it started, and now it's a three-peat," said Sidney H. Bliss, president of Bliss Communications, the parent company of The Gazette.
"This speaks to the consistency of journalistic excellence and marketing prowess represented in The Gazette each and every day," Bliss said.
"All of us at The Gazette are proud to call Janesville our home as we strive to continue to bring our community and the surrounding area the kind of news and information that matters to our readers and advertisers.
"We appreciate and respect the fact that it is the community's continuing financial support that enables a genuinely superb staff to do this job so well," he said.
The 2017 Better Newspaper Contest included 2,819 entries from 119 newspapers.
Eligible entries were published between Sept. 1, 2016, and Aug. 31, 2017, and were judged by members of the Iowa Newspaper Association.
News
First Place, Special Section, Staff
First Place, Editorial Award, Andrew Broman
First Place, Enterprise/Interpretive Reporting, Neil Johnson
First Place, Feature Story (Profile), Jonah Beleckis
First Place, Reporting on Local Education, Jonah Beleckis
First Place, Local Column, Anna Marie Lux
First Place, Sports News Story, Eric Schmoldt
First Place, Sports Feature, Eric Schmoldt
First Place, All-Around Newspaper Photography, Anthony Wahl and Angela Major
First Place, Spot News Photo, Angela Major
First Place, General News Photo, Anthony Wahl
First Place, Feature Photo, Angela Major
First Place, Portrait or Artistic Photo, Anthony Wahl
First Place, Photo Essay, Anthony Wahl
First Place, Page Design—Sports, Bryan Wegter
Second Place, General Excellence, Staff
Second Place, Sports Section, Staff
Second Place, Investigative Reporting, Jake Magee
Second Place, Enterprise/Interpretive Reporting, Jim Dayton
Second Place, Feature (Non-profile), Jonah Beleckis
Second Place, Ongoing/Extended Coverage, Jonah Beleckis
Second Place, Local Outdoor Column, Anna Marie Lux
Third Place, 'Rookie' Reporter of the Year, Jonah Beleckis
Third Place, Investigative Reporting, Neil Johnson
Third Place, Reporting on Local Education, Catherine W. Idzerda
Third Place, Ongoing/Extended Coverage, Staff
Third Place, Sports News Story, Eric Schmoldt
Third Place, Local Sports Column, Tom Miller
Third Place, General News Photo, Anthony Wahl
Third Place, Photo Essay, Anthony Wahl
Honorable Mention, Feature Story (Non-profile), Catherine W. Idzerda
Honorable Mention, Feature Story (Profile), Jonah Beleckis
Honorable Mention, Sports Photo, Anthony Wahl
Honorable Mention, Portrait or Artistic Photo, Anthony Wahl
Honorable Mention, Photo Essay, Angela Major
Advertising
First Place, Best Real Estate Ad, Nina Perona, Donna Felland
First Place, Best Large Ad, Nina Perona, Donna Felland
First Place, Best Use of Color, Mary Hamlin, Donna Felland
First Place, Best Multiple Advertiser Spread, Donna Felland
First Place, Best Use of Local Photography, Sara Van Galder, Anthony Wahl, Rudy Frank
First Place, Best Use of Humor, Trish Edwards
First Place, Best Advertising Sales Tool, Donna Felland, Emily Rezin, Tim Seeman, Sara Van Galder
First Place, Best Newspaper Promotion, Sara Van Galder, Anthony Wahl, Rudy Frank
First Place, Best Annual Niche Publication, Gazette Advertising Staff
First Place, Innovative Online Advertising, Katie Crist
First Place, Best Online Advertising—Single Ad-Static, Mary Hamlin
Second Place, Bill Payne Award, Sara Van Galder, Rudy Frank
Second Place, Best Grocery Ad, Laura Feit, Donna Felland
Second Place, Best Restaurant Ad, Katie Crist, Emily Rezin, Donna Felland
Second Place, Best Large Ad, Tom Bradley, Sara Van Galder
Second Place, Best Small Ad, Katie Crist
Second Place, Best Ad Idea (Series), Trish Edwards
Second Place, Best Special Section, Advertising & Newsroom Staff
Second Place, Best Use of Local Photography, Nina Perona, Anthony Wahl, Donna Felland
Second Place, Innovative Online Advertising, Katie Crist, Emily Rezin
Second Place, Best Online Advertising—Single Ad—Animated, Katie Crist
Third Place, Bill Payne Award, Sara Van Galder, Anthony Wahl
Third Place, Best Large Ad, Sara Van Galder
Third Place, Best Multiple Advertiser Spread, Rachel Vogt
Third Place, Best Use of Humor, Danielle Hackett, Terry Fleig
Third Place, Best Annual Niche Publication, Advertising Staff
Third Place, Best Ongoing Niche Publication, Donna Felland, Danielle Lentenyi, Emily Rezin
Third Place, Best Online Advertising—Single Ad-Animated, Katie Crist, Emily Rezin
Honorable Mention, Best Special Section, Advertising Staff
Honorable Mention, Best Use of Art Service, Mary Hamlin