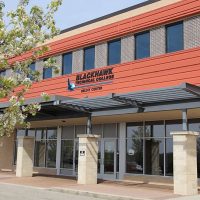 Blackhawk Technical College (BTC) is hosting informational listening sessions for the community of Beloit. At the sessions, BTC faculty and staff will share the College's vision for BTC's presence in the Beloit community, including:
*   Creating more opportunities with K-12
*   Assisting with business and economic development
*   Expanding partnerships
*   Sharing resources with our community partners
Help make an impact within the Beloit community and attend one of our four informational sessions being held on:
·    May 16, 5:30pm — Beloit Memorial High School, 1225 4th Street, Beloit
·    May 22, 1:00pm — Beloit Public Library, 605 Eclipse Blvd, Beloit
·    June 5, 1:00pm — Beloit Historical Society, 845 Hacket St., Beloit
·    June 18, 5:30pm — Emmanuel Baptist Church, 1151 East Grand Ave., Beloit
Sponsored by Blackhawk Technical College, these listening sessions will feature a short presentation to provide information about BTC's services and thoughts on our future plans in Beloit. For additional information about these listening sessions, please feel free to call (608) 757-7655.