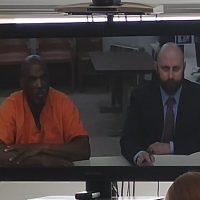 The 62-year-old former Beloit Police officer accused of repeatedly sexually assaulting a 14-year-old girl makes his initial appearance in Rock County Court.
Prosecutor Gwammy Tjoa argued that Larry J. Woods should be held on a $10,000 cash bond.  The defense asked for a signature bond.
According to the criminal complaint the girl's mother discovered videos of Woods and and her child on her cell phone after allowing the girl to borrow her phone for about a month.
The child told police that she had known Woods all her life but started a sexual relationship with him in September of 2017 after she starting attending Beloit Memorial High School where Woods worked as a security guard.
Court Commissioner Larry Barton set a $100,000 signature bond for Woods on a single count of repeated sexual assault of a child Tuesday afternoon.