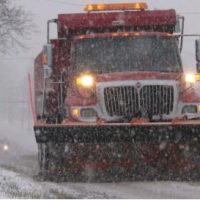 Local communities are declaring snow emergencies ahead of the upcoming storm.
Both the city and town of Beloit have emergencies declared starting at 10:00 p.m. Monday night.
The city's declaration lasts 24 hours, while the town will maintain the snow emergency until the end of Tuesday night.
Janesville officials are waiting a little longer for their snow emergency, which won't go into effect until 8 a.m. tomorrow morning.
As always, a snow emergency means that all parked vehicles must be removed from city streets until snow plowing operations are complete