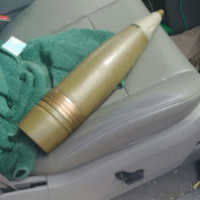 A Janesville citizen brings an explosive artillery shell to the Rock County Sheriff's Office.
According to a news release, the resident found it while cleaning his mother's attic in Janesville.
Police say he didn't know what to do with it, so he put it in his car to turn it into the sheriff's office.
Once they received the report, police evacuated the area and called in the Rockford Police Department's bomb squad to take custody of the device.
The sheriff's office says the best practice for citizens who find explosives is to evacuate the area and call 911.