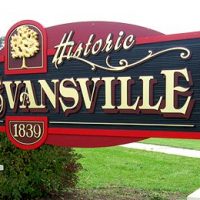 All of the late season rain causes a bit of a headache for the City of Evansville.
Director of Municipal Services Chad Renly says about a week and a half ago city officials were made aware of a retaining wall sinking along Allen Creek by the Lake Leota Dam.
Renly says city officials closed the bridge as a precaution and made repairs last week.  The bridge reopened to traffic last Friday.
Renly says in the City is considering removing the remaining gabion baskets and replacing them with retaining walls so the problem doesn't happen again in the future.