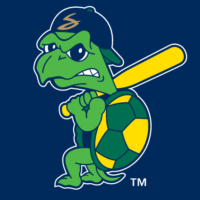 Fan voting is now open for the five finalists for the new name of the Beloit Snappers.
The minor league baseball team announced last week it would be moving on from the Snappers name as it builds a new stadium and changes ownership ahead of the 2021 season.
Each day this week, the team announced a new potential name for the team, with mixed reaction in the comment section on social media posts.
The five names chosen out of thousands of submissions are:
Beloit Cheeseballs
Beloit Moo
Beloit Polka Pike
Beloit Sky Carp
Beloit Supper Clubbers
Cheeseballs are a reference to the round orange puffed corn snack coated in cheese-flavored powder. Moo is an homage to Wisconsin's dairy industry.
Polka Pike is a combination of the music genre and the fish often caught in the Rock River. Sky Carp is a slang term for geese, which are common in the Rock County area.
Supper Clubbers appear to simply be patrons of supper clubs.
"The names on the list might seem silly now, but people said the name Rocket City Trash Pandas was silly when it came out, and now it's one of the most respected brands in Minor League Baseball," future Beloit Snappers owner Quint Studer said. "People said the same thing about the Amarillo Sod Poodles, the Montgomery Biscuits, the Hartford Yard Goats, the Akron Rubber Ducks, the Jacksonville Jumbo Shrimp, the Pensacola Blue Wahoos."
Some Beloit baseball fans started an online petition to keep the Snappers name, and as of Friday night, it had over 800 signatures.
Studer said he expected fans be emotional about the change, but he believes a fresh, unique name will be important in the team's branding and financial success with merchandise.
"We also surveyed fans through our team website, giving fans the chance to write in whatever they wanted the team name to be," Studer said. "About 30% of fans wrote in that they wanted the Snappers name to stay. We respect the fans who feel strongly about the Snappers name and are taking a lot of steps to help preserve the name's history. But, almost 70% of fans wrote in other, new names."