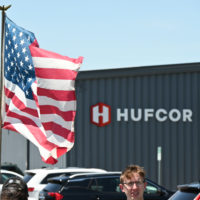 The local union representing employees at Hufcor is putting up a fight against their parent company's plan to close its Janesville facility and shift operations to Mexico.
The Industrial Division of the Communication Workers of America Local 84811 held a rally Thursday in front of the manufacturing plant on Kennedy Road.
Other local labor groups filled out a crowd of around 100 in solidarity, including teachers, teamsters, auto workers and public employees.
A few employees delivered speeches about the impact of the pending job loss. One woman fears her family could lose their house and their health insurance as she battles an ongoing disease.
Also present were state and local politicians including Senator Janis Ringhand, Representative Don Vruwink and former senator Tim Cullen.
The union raised a large sign that called Hufcor's parent company OpenGate Capital a "vampire private equity firm," and it hopes the Los Angeles-based corporation can see the human impact on its plans to eliminate as many as 200 jobs.