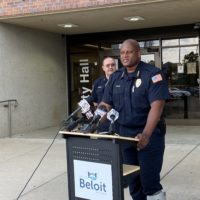 Beloit police arrest a 15-year-old for a homicide from Labor Day weekend.
Police Chief Andre Sayles announced the arrest Monday at a press conference.
He said witnesses connected the suspect to a shooting from September 3 that left a 19-year-old victim dead in the 300 block of Portland Avenue, where was found the morning of September 5.
Officers arrested the teenager Monday at Beloit Memorial High School, where he was found to have a firearm in his backpack.
Chief Sayles thanked the community and the school district for their cooperation in the investigation.
He said it will be up to the district attorney's office whether the 15-year-old is charged as an adult, at which time his identity would be revealed.