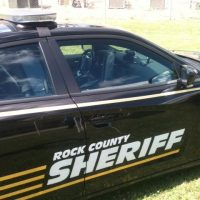 An outbuilding at a town of Spring Valley farm is damaged after a driverless tractor crashes into it.
According to a Facebook post from the Rock County Sheriff's Office, the incident happened about 1:00 Monday morning in the 500 block of South Dickey Road.
Investigation determined a large farm tractor with an attached trailer was started and shifted into gear.
The tractor was allowed to travel without an operator and it eventually crossed the road an struck a building at a nearby farm.
There were no reported injuries, but both the tractor and building sustained substantial damage.
Anyone with information is asked to contact the Rock County Sheriff's Office.