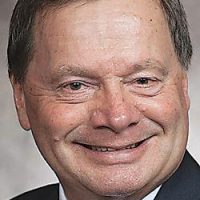 An area legislator will be honored by his home community Thursday night.
Wisconsin 43rd Assembly District Representative Don Vruwink will be among the inaugural group of inductees on the School District of Milton Wall of Honor.
Vruwink arrived in Milton in 1979 to become a history teacher and coach at Milton High School.
He also served as the City of Milton's parks and recreation director, and held seats on the Milton City Council and Milton School Board prior to his election to the Assembly in 2017.
Vruwink, who said he was shocked to hear he'd been selected as an inductee for the Wall of Honor, says the longer he stayed in the Milton community, the more attached he became to it.
Vruwink and five others will be inducted onto the Wall at a ceremony at Milton High School.