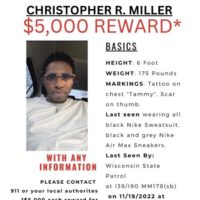 The family of missing Madison man Christopher Miller continues to search the areas of Janesville and Beloit after he was last seen nearly one month ago.
Tammy James says they have a Facebook page dedicated to the search for her son called "Find Christopher Miller", where people can share information and get details on the search parties they're holding Saturday and Sunday.
Miller's fiancé Mallory Duerst says it has been a hard time for everyone involved, and not having any details on him has been one of the hardest parts, so any and all information is a help at this point.
Miller is described as a black man who is six feet tall and 178 pounds, he was last seen on November 19th after hitting a light pole near I-90 and Avalon Rd in Janesville.