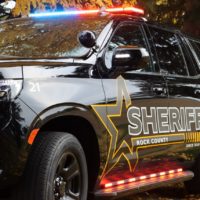 | By Big Radio News Staff |
Authorities haven't released the identity of a person apparently found dead last week in a car authorities say had careened off Highway 26 near Storr's Lake in Milton.
A Rock County Sheriff's official tells Big Radio police were called to the 6200 block of East Storr's Lake Road last Monday afternoon after a property owner apparently spotted a crashed car with a person inside.
The official said the car appeared to have veered off Highway 26 and down an embankment before winding up on private property off East Storr's Lake Road. The road runs east beneath Highway 26 and ends at the Storr's Lake wildlife area.
A Lakeside Fire and Rescue official says medical privacy rules bars them from giving details on the crash.
A state patrol official says it was a single car accident, and county and state authorities were doing a crash reconstruction.
Big Radio has reached out to the Rock County Medical Examiner's Office.