2020

Elections

!
ELECTION NIGHT COVERAGE
begins Tuesday, 11/3 at 8pm on WCLO.

STAY WITH WCLO FOR COMPLETE  2020 ELECTION COVERAGE.


PODCASTS (with original air date references)
WITH CANDIDATES/REFERENDUM INFORMATION:

Wednesday, 9/30.    Janesville School District Referendums Info. (Podcast)
Friday, 10/2.    Milton School District Referendum Info.  (Podcast)
Monday, 10/5.    Blackhawk Technical College Referendum Info. (Podcast)
Tuesday, 10/6.    31st Assembly District Debate.  (Podcast).
Thursday, 10/8.    2nd Congressional District Debate.  (Podcast).
Monday, 10/12.   Evansville Aquatic Facilities Referendum. (Podcast).
Tuesday, 10/13.    45th Assembly District Debate.  (Podcast).
Tuesday, 10/13.   Clinton Schools Referendum.  (Podcast).
Thursday, 10/15.   43rd Assembly District Debate. (Podcast).
Friday, 10/16.   1st Congressional District Debate. (Podcast).
Monday, 10/19.    44th Assembly District Debate.  (Podcast).

TO FIND OUT WHO WILL BE ON YOUR BALLOT, POLLING PLACE INFORMATION AND MORE VISIT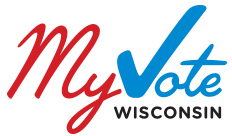 FREQUENTLY ASKED QUESTIONS:
(Portions republished from:  https://www.cbsnews.com/live-updates/how-to-vote-2020-election/)
How do I register to vote? Register online, by mail, in person at your municipal clerk's office or on Election Day at your polling place. A copy of the application can be found here with more forms here.
Am I already registered? Check your registration status here.
What is required to register and what's the deadline? If you have a valid Wisconsin driver's license or ID card, you must provide the number and expiration date. If the license or ID is canceled or expired, provide the number and last four digits of your Social Security number.
If you have none of these documents, you can indicate that. A photo ID is not required when registering to vote, but  you must provide a proof-of-residence document, such as another official state government ID, an ID card issued by an employer with a photo, a real estate tax bill, a utility bill, a paycheck or any of the options listed in this document. You must live at your address for at least 28 days by Election Day to register. Voters who move to Wisconsin from another state less than 28 days before an election are only eligible to vote in presidential elections.
Online and mail applications can be submitted until 20 days before Election Day. This year, the deadline is October 14. You can register in person at a clerk's office until 5 p.m. or close of business on the Friday before the election. You can't register on Saturday, Sunday or Monday before an election, but you can register on Election Day at your polling site.
How can I vote? You may vote in person on Election Day or vote absentee by mail. All Wisconsin voters can vote absentee without an excuse.
How do I get a mail-in ballot? The Wisconsin Elections Commission mailed about 2.6 million voters an absentee ballot application on September 1 if they did not have one on file already. Overseas and military voters can find information at the links provided.
You can also request a mail ballot online or by sending an absentee ballot request form to your local municipal clerk. That form is available here. For most voters, your application must be received by a clerk no later than 5 p.m. on October 29. You'll need to provide a copy of your photo ID with your request if you have not applied for an absentee ballot before. Here's a list of acceptable photo IDs and information about getting a free state ID card.
 
Can I vote in person? Yes. Polls will be open from 7 a.m. until 8 p.m. You may also vote early in person absentee at your local municipal clerk's office, both applying and filling out your ballot immediately and then returning to election workers. To find your city's hours, contact your municipal clerk.
How do I make my vote count? If you vote absentee, you'll need to fill out your ballot in the presence of a witness who is a U.S. citizen, at least 18 years old, unless you're a military/overseas voter, in which case you just need a witness who is at least 18 years old. A witness may be a spouse, friend, family member, neighbor, etc. It cannot be an on-duty USPS worker or candidate up for election.
You must refold your ballot and put it in the return envelope and seal it in front of your witness. A witness must just confirm that you filled out your own ballot, but you should fill out your ballot privately so the witness can't see who you voted for. Ensure all voter information is filled out and remember to sign the Certification of Voter section. Your witness must sign and provide their full address in the Certification of Witness section.
Your ballot must be returned to your polling place (or central count facility) by 8 p.m. on Election Day. You can mail it, drop it off at your local clerk's office, at a polling site or central count facility or put it in an absentee ballot drop box if your city has any. The USPS recommends mailing your ballot no later than October 27 this year if you're sending it domestically. Track your ballot here.  
Will I know if it's rejected and can I correct it? Clerks are not required to notify voters of issues, though this is left to the discretion of each clerk. A clerk can let you know if there's an issue with your ballot, and you can correct the issue until 8 p.m. on Election Day.  
Who counts my vote and when do they start? Local clerks count the votes. They cannot start opening and counting ballots until Election Day.
How do I sign up to be a poll worker? Find out about becoming a poll worker here. To be a poll worker you must be a U.S. citizen, at least 18 years old (with some exceptions for high school students) and not be a candidate for any office at that polling site. You also have to be a qualified elector in the county where you are working.