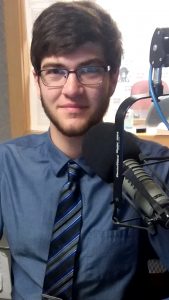 News Anchor 
HOMETOWN: Janesville, Wisconsin
HOW DID YOU GET STARTED IN RADIO?
I started doing sports podcasts when I was 18 years old. After I earned my journalism and communications degrees from the University of Wisconsin-Madison, I started as an intern at WCLO doing a little bit of everything. They seem to have liked me enough to keep me around for awhile.
HOBBIES:
When I'm not on the air or spending time with family, I'm doing something football related — watching, reading, writing, talking or tweeting. It's part hobby, part profession and part obsession.
FAVORITE "CELEBRITY" ENCOUNTER:
I've had the pleasure of interviewing some incredible athletes and coaches through my young journalism career, like Russell Wilson, Jonathan Taylor, Mitchell Trubisky, Jay Cutler, Jason Kidd and Jabari Parker.
WHAT WOULD YOU BE DOING IF YOU WEREN'T IN RADIO?
Watching more sports
FAVORITE QUOTE:
"Crocodile the gator type, I'm allergic to the hater type." — 2 Chainz