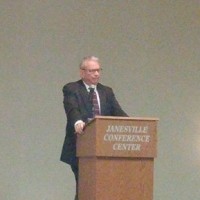 A fundraiser for the Janesville Multicultural Teacher Opportunities Scholarship program brings in some serious cash thanks to a big name speaker.
School Board President Kevin Murray was impressed with the way Wisconsin's longest serving Governor, Tommy Thompson fired up the crowd.
Organizers for the fundraiser Monday evening say it was their best turnout yet.
The money raised goes to provide college scholarships for Janesville High School Students pursuing a degree in education, if they agree to come back and teach in Janesville. The program is the brain child of former State Senator and Janesville School Board Member Tim Cullen.