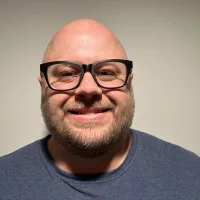 Producer of The Bare Necessities – Weekday's 3:15-5pm/Saturday Morning Host 6a-10a
HOMETOWN:  Cary, Illinois
HOW DID YOU GET STARTED IN RADIO?  
In 2005, right out of college, I starting working part time at WLIP and WIIL in Kenosha.
HOBBIES: 
I love watching sports, movies and TikTok (too much) and taking walks with my wife.  I will hit the gym from time to time and throw some weights around.  Other than that, the couch is my best friend.
FAVORITE "CELEBRITY" ENCOUNTER: 
I spotted OJ Simpson at the Houston Airport during the mid 90's.  He was quite famous at the time.
WHAT WOULD YOU BE DOING IF YOU WEREN'T IN RADIO? 
I would probably be a truck driver.  
 FAVORITE QUOTE:   "You're gonna need a bigger boat."