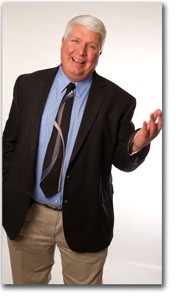 HOMETOWN: Racine, WI
HOW DID YOU GET STARTED IN RADIO?
Strange Story.   Actually selected a broadcast school over a traditional University by reading "Airport" by Arthur Hailey.  The name of the airline – "TransAmerican" – was the name of a Broadcast School I was considering. I thought it was a "Sign".   And so, here I am.
HOBBIES:
Love my 1998 Pontiac Sunfire convertible. I'm kind of a weather geek and enjoy learning new computer stuff from my kids until it makes my head hurt. I love traveling and have taken many cruises as our primary vacation in the last 10 years.
FAVORITE "CELEBRITY" ENCOUNTER:
Toughie.  It's fun to talk with all the celebs we have on "Your Talk Show". I've covered several well-known politicians though not personally speaking to them all;  but probably my favorite was when Gordon Jump visited the station (he was the Ol Lonely Maytag Repairman in the 80s and 90s but is also known as the station manager of TV's "WKRP in Cincinnati", Arthur Carlson.  A close second would be meeting Bob Uecker on our station media days with the Brewers.
WHAT WOULD YOU BE DOING IF YOU WEREN'T IN RADIO?
I haven't the slightest. I certainly enjoy the "game show" aspect of my promotional job and would love to do that for businesses in the area. But my first job during high school was fast food, and I always enjoyed that. So, if money were no object – I'd probably live my life as the owner of Janesville's first Sonic Drive-In.
FAVORITE QUOTE:
"It is always darkest just before the Day dawneth."   — Thomas Fuller
OR, In today's world:
"Just keep swimming"     — Dory ("Finding Nemo")