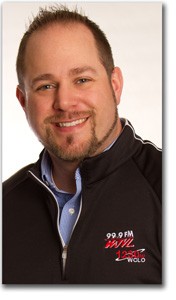 HOMETOWN: Janesville, WI
HOW DID YOU GET STARTED IN RADIO?
Originally, I wanted to be a math teacher. But I hit Pre-Calculus in high school and that ended that. I was driving to school one day in the spring of my senior year and listening to a now-defunct morning show in Madison and thought, "This sounds fun…I can do this!" A year later I had a part-time job at WCLO. Things took off from there.
HOBBIES:
Watching/quoting movies to the point of annoyance. Enjoying a high school football or basketball game. Catching the Packers/Badgers/Brewers whenever I can. Playing/umpiring softball. Getting in an occasional game of Golden Tee.
FAVORITE "CELEBRITY" ENCOUNTER:
Being a fan of the Brewers and radio in general, one of the people I admired and DO admire, is Bob Uecker. When I was a mere intern, Tim Bremel brought this wide-eyed kid to Brewers Radio Network Day. We had lunch on a patio at County Stadium and I asked Tim probably 50 times if Uecker was going to attend. All of a sudden I saw a full head of slick white hair bobbing above the crowd and Uecker emerged. Mouth agape, I couldn't even move. Tim finally encouraged me to go ask for a photo opportunity. It was one of the biggest thrills in my life.
WHAT WOULD YOU BE DOING IF YOU WEREN'T IN RADIO?
I honestly have no idea. Possibly doing some PR work for a company.
FAVORITE QUOTE:
"The strangeness of this life cannot be measured." – John Dunbar, "Dances With Wolves"