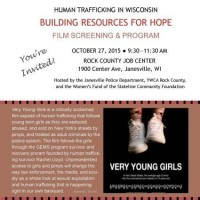 On October 27th, 2015 from 9:30am to 11:30am an event is being hosted by the Janesville Police Department, YWCA Rock County, and the Women's Fund of the Stateline Community Foundation at the Job Center to raise awareness about human trafficking.
Numerous organizations have also been invited in hopes they will partner with the National Human Trafficking Resource Center to build a community of Wisconsin-based organizations to assist victims locally and statewide.
Human Trafficking is the second most profitable criminal enterprise in the United States second only to the illegal drug trade. The average age of entry into the commercial sex industry is age 12. Within 48 hours of running away from home, 1 in 3 juveniles are solicited for commercial sex.