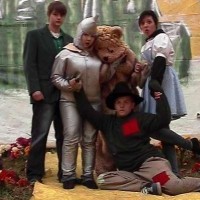 The Enchanted Forest and Hollywood Hayride is a non-scary community-wide special event for families with young children. The Enchanted Forest won an award at the 2003 Wisconsin Parks and Recreation Conference for excellence in recreation programming. The event has evolved over the years to a spectacle like no other in the surrounding area, and is a must see for families.
The program will run on Wednesday, October 21 and Thursday, October 22 from 5:30 – 8pm. It will also run on Friday, October 23 and Saturday, October 24 from 5:30-8:30pm. The Enchanted Forest will cost $2.50/child and $1.50/adult, while the Hollywood Hayride will cost $3/person. Both events will be located at Palmer Park.
The program will also feature Goblin Games, Optimist Club Barrel Rides, Concessions, Glow Necklace & T-shirt Sales. Those interested in scene sponsorship, prop, set or costume donations and volunteering should contact the Recreation Division at 755-3030.
The Enchanted Forest is a non-scary candlelit walk featuring 8 scenes from famous fairytales and nursery rhymes with live actors from the Craig, Parker & Milton drama clubs, beautifully constructed sets, and awesome costumes and props! See your all-time favorites, such as: Goldilocks & 3 Bears and The 3 Little Pigs. Cinderella will even make a grand appearance on a horse-drawn carriage.
The Hollywood Hayride is a star-studded adventure full of 7 scenes from popular movies and TV shows! Characters will come to life and might even jump into the wagon! Awesome new scenes in 2015, including: Inside Out! Characters hand out small trinkets at some scenes.