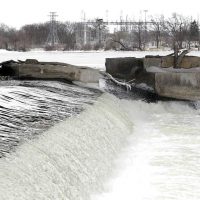 (Gazette photo) Janesville residents continue to fight for the Monterey Dam, this time, before the Department of Natural Resources.
The DNR held a public informational meeting Tuesday evening to gather feedback from the public on the City's application to remove the dilapidated structure.  More than three dozen people showed up and all but one spoke out in favor of keeping the dam.
Citizens can continue to submit written comments through September 21st.