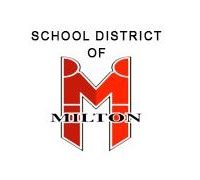 The School District of Milton is pleased to announce that student enrollment continues to increase and the tax mill rate will decrease in a budget approved by the Board of Education at their regularly scheduled meeting on Monday, October 23, 2017.
The third Friday in September student count shows an increase of 32 students in our school buildings. This is the third consecutive year of an increase in student attendance. A total of 3,492 students in the buildings represents the highest student enrollment ever in the history of the School District of Milton.
The Board of Education also approved the 2017-18 school year budget. The local tax levy and school district tax mill rate will be lower than last year. After voters approved a $2.5 million dollar operational referendum to maintain existing programming last year, the local levy and mill rate increased to $15.1 million dollars, with a mill rate of $9.16. At their meeting last night the Board approved the 2017-18 final budget as presented, with the local tax levy decreasing by $338,971 and the tax mill rate will decrease by .75 cents to $8.41. These reductions are due in large part to increases in student enrollment, state aid and increased equalized property valuation.
Superintendent Tim Schigur commented on the announcement by stating, "I am extremely proud of the work being done by our staff that continues to make our school district such an attractive place for families and an excellent place for students to learn. The reduction in the local levy and our mill rate for the third time in four years is indicative of our on-going commitment to providing the best educational experiences possible for our students at the lowest possible cost to district taxpayers."