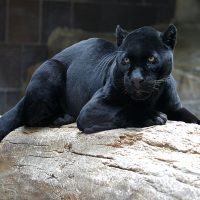 (Wikipedia photo) Authorities in northern Illinois are investigating the report of a large black panther sighting.
Roscoe Police say at 11:30 Wednesday morning officers responded to the 5100 block of Rockton Road on the report of a big cat sighting.
The area was checked and officers were unable to find any sign of the cat, or any other witnesses who may have seen it.
According to the Illinois Department of Natural Resources, panthers have not had a population in Illinois in over 100 years, however occasionally cougars, which are tan or brown in color, have been documented to wander into the area. Large cats are protected in Illinois from any action, unless the animal poses an immediate threat to humans or livestock.