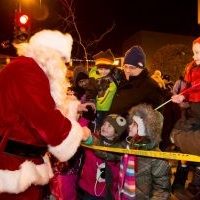 Now in its 25th year, the Grand Lighted Holiday Parade, hosted by Downtown Beloit Association, continues to bring delight to families, children, and kids at heart!
The Grand Lighted Holiday Parade offers an impressive schedule of events and attracts thousands of local community members and visitors alike. Live music, free hot chocolate, photos with Santa and Mrs. Claus, and decorative floats are just a few of the entertainment highlights enjoyed by the gathering.
The event will be held on Friday, November 24, 2017 and begin with live music at the First National Bank Plaza (corner of State St. and Grand Ave.) at 5:00 pm. Santa will arrive at 6:00 pm and begin the tree lighting which will be followed by the parade at 6:15 pm. Visits and photos with Santa will take place at the Turtle Creek Bookstore, 444 E. Grand Ave., at 7:00 pm.
"The Holiday Parade gets bigger and better every year," said Shauna El-Amin, Executive Director of the Downtown Beloit Association. "It's a fantastic, fun event to kick off the holiday season, spend time with family, and make new acquaintances!"
Cash prizes are awarded for the best floats. For information about entering a float in the parade, email crystal@downtownbeloit.com For more information about the Holiday Parade, visit www.downtownbeloit.comor www.facebook.com/DowntownBeloit/events or call the Downtown Beloit Association at (608) 365-0150.