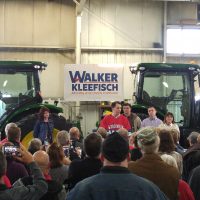 Governor Scott Walker makes his re-election campaign official with a rally in Janesville.
The two term Republican got a crowd at Mid-State Equipment in Janesville fired up by the fact that more people are employed in Wisconsin than ever before.
Walker announced online last month that he's seeking a third term as Governor.
The Governor stopped in Janesville Tuesday as part of a multi-day campaign announcement tour around the state.