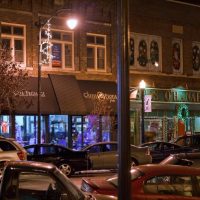 For the past thirteen years, the Downtown Beloit Association has hosted "Holidazzle," a unique, evening shopping experience in historic Downtown Beloit! This event draws thousands of residents and visitors to revel in the holiday spirit and festivities while supporting small businesses, artisans, and craftspeople.
Now in its 14th year, Holidazzle continues to grow, with 30-plus businesses participating. In addition to the plethora of exceptional items for sale, shoppers can enjoy live carolers, a free trolley, free holiday treats and sweets, and free adult beverages and hors d'oeuvres at Hendricks Center for the Art. Even Santa makes a visit to Holidazzle!
The event will be held on Friday, December 1, 2017 from 5 to 9 pm in the heart of Downtown Beloit. Brochures will be available listing the participating businesses and the names of the artists or craftspeople selling their wares in each location.
"Holidazzle is Beloit's most dazzling event of the year," exclaims Shauna El-Amin, Executive Director of the Downtown Beloit Association. "It's a fantastic event to get some of your holiday shopping done while supporting artisans and small business owners that are unique to Beloit!"
Visits and photos with Santa will take place at the Turtle Creek Bookstore, 444 E. Grand Ave., throughout the evening.