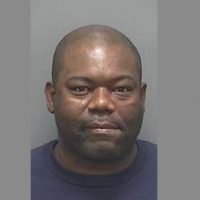 Janesville police news conference

Posted by WCLO Janesville on Wednesday, November 29, 2017
Police are warning the public about a registered sex offender who has approached four girls since Oct. 30, offering them rides while they were on their way to school.  None of the girls accepted the offer, and no one was hurt, but police say they want to avert a possible tragedy by getting the word out.  Daryl Holloway, 49, has been issued a disorderly conduct citation, but he has not done anything to get him put in jail, police said in a news conference Wednesday.  He has told police that he thought the girls were all at least 18 and that he was seeking companionship. He addressed them as "baby" or "baby girl," the girls told police.  Holloway is described at 5 feet, 10 inches tall, 250 pounds, and bald. He drives a white, 2005 Cavalier and a maroon 2006 Saturn Relay minivan. The minivan has a silver back door.  Police and the Department of Corrections are investigating whether Holloway has violated sex-registry rules by not notifying the department within 10 days of a change of a address, police said.  Holloway has a Milwaukee address, but police have been told he has been living at his girlfriend's house, 2818 Rutledge Ave. in Janesville.  Holloway has told police that he is only visiting in Janesville. He also says he thought that in each of the four times he has contacted girls, he thought they were at least 18.  "We believe this person to be a threat to our community and wish to inform citizens of the danger," Police Chief Dave Moore said.  At the same time, Holloway has rights that must be respected, said Lt. Terry Sheridan.  The matter has been referred to the Rock County District Attorney's Office, Moore said.  Police reported these incidents:
— 7:50 a.m. Oct. 30 at Pearl and Racine Streets, when a 12-year-old girl was approached.
— 6:45 a.m. Nov. 10, when a 14-year-old girl was approached.
— 7:20 a.m. Nov. 14, when a 12-year-old girl was approached at Memorial Drive and Randall Avenue.
— 7:50 a.m. Nov. 16, when a 16-year-old girl was approached while with other children at the Janesville bus terminal on River Street.
One of the incidents was reported only recently, and it was only Tuesday morning when the police department's administration became aware of the pattern, Moore said.
Police say Holloway was convicted in 1985 of second-degree sexual assault and burglary and sentenced to 10 years in prison and five years probation. He is a lifetime sex registrant.
The 1985 case involved an adult woman, so he has not been forbidden to have contact with juveniles, police said.
Holloway was charged this August in Milwaukee with burglary, theft of a firearm and prohibited possession of a firearm. That matter is still pending in Milwaukee County Court, police said.
(Story courtesy Gazette reporter Frank Schultz)