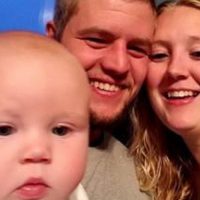 (GoFundMe photo) Janesville Farmers Market will be selling vegetables in memory of a former local vendor at the December 2nd indoor market.
Farmer Melissa Whitten of Orfordville was signed up to sell vegetables at the winter market before she passed away in a car accident on November 16th.  After her death, a friend of the family approached the farmers' market board with a question about whether they could find a way to sell the remaining vegetables that Melissa had grown for supplemental income. The board members responded with an offer to pick up the vegetables and sell them at the winter market with all money going to Melissa's husband and 5 month old daughter.
"Melissa quickly became a favorite at the summer market, along with her newborn daughter Vanessa," says JFM Manager Emily Arthur, "Always doing all she could to make each customer
smile."
"We all want to be able to do something to help the family," says JFM board member Stephanie Aegerter, "While nothing will take away the pain of losing Melissa, the manager and board have
embraced this opportunity to honor her by selling the vegetables that she worked hard to grow for our market."
The indoor winter market will be held from 9am to 2 pm Saturday in the downstairs Friendship Hall at St. John Lutheran Church at 302 North Parker Drive in Downtown Janesville. Visitors to
the market will have the opportunity to purchase potatoes and pie pumpkins grown by Melissa and/or make a donation to her family. Other products available at the market include local eggs,
meat, cheese, honey, wool, baked goods, coffee, jewelry, fabric crafts, leather, soap, woodworking and more. The winter market is part of Janesville's Jolly Jingle.