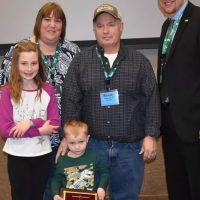 Local pig farmers are honored for their work promoting the pork industry.
The Wisconsin Pork Association has presented a Distinguished Service Award to Randy and Linda Kleven.
The WPA says Randy has served as President of the Rock County Pork Producers for a number of years, as well as manager of the WPA's Pork Schoppe at the Wisconsin State Fair.
Linda also volunteers significant time for WPA programs including as a member of the Promotions Committee for the last seven years.
The Klevens started raising pigs in the early 1990's on their farm in Harmony Township in Rock County. They began with Spots, Hampshires, and crossbreds, and eventually added Herefords and Tamworths, which they continue to raise today.