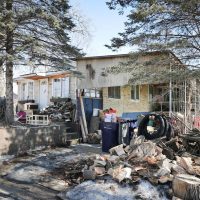 (Gazette photo) The City of Janesville seeks a court order to raze an occupied house that has fallen out of code compliance.
Ty Bollerud owns and lives in the house at 419 South Walnut Street.
According to a summons filed in Rock County Court just over a year ago, city officials ordered him to vacate and fix up the property.
A city inspection revealed the house has several code violations, including open electrical wiring, a lack of smoke and carbon monoxide detectors, and extension cords used in place of permanent wiring.
Bollerud has 20 days after receiving the summons to respond.