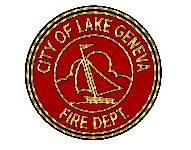 The Lake Geneva Fire Department is warning citizens of an imposter who's been seeking donations and distributing shoddy smoke detectors to citizens.
Late last month the fire department was notified of an individual who was going to homes to solicit funds and leaving non UL approved smoke detectors.
Officials say this person is not associated with the Lake Geneva Fire Department or the City of Lake Geneva, and the smoke detectors they are leaving are not safe for use.
The Fire Department says they do not go door to door soliciting donations, but that they will come to your home to install a free smoke detector if you make an appointment.